Talking Shrimp®
media
Press, guest posts and podcasts.
Looking for media photos, bio, and speaking info? Click here.
BUSINESS INSIDER
I Made My First Million at 50, And Let Me Tell You Something – It's Better When You Wait
ELLE
Why Won't People Just Let Me Not Be a Mom?
FAST COMPANY
These 3 weird tricks have helped me beat work procrastination
BUSINESS INSIDER
I earn $950 an hour writing from my couch — here are my best tips for people who want to work for themselves
MONEY MAGAZINE
I Get Paid $6,000 a Day to Write Inspirational Quotes for Instagram. Here's How I Perfected This Dream Job
MONEY MAGAZINE
16 Things I'll Never Miss About Working in an Office — and 8 Tips for Working From Home
MEDIUM
Why "Emily in Paris" is 2020's Ultimate Hate Watch
BUSINESS INSIDER
The same thing I was bullied for in middle school became the foundation of my successful business
MONEY MAGAZINE
Here's a Genius Method for Writing Emails That People ALWAYS Open
MONEY MAGAZINE
The Three Words You Should Never Use in a Work Email—And What to Say Instead
MEDIUM
Happy Mother's Day! Now stop saying these 10 things to people who don't want kids.
FORBES
How A Copywriter Created A Million-Dollar, One-Person Business—By Saying Goodbye To $1,450-An-Hour Client Work
FORBES
Four Ways To Build A Strong Online Reputation For Yourself As A Freelancer
DIGITAL MARKETER
12 Women in Marketing to Watch Out For
GMA
What is a 'rich auntie?' Women explain the movement
FORBES
How To Get Over Your Fear Of Self-Promotion
FORBES
Build A Brand People Will Love With This One Trick
METRO
Big Happiness Interview: Laura Belgray on how it's never too late to fulfil your potential
FORBES
3 Mindset Shifts One Entrepreneur Made To Get To The $1 Million Per Year Mark
VOX
How to make $6,000 a day writing Instagram quotes — sort of
SPOTIFY PLAYLIST
24 hours of Belgray binge
THE GOAL DIGGER PODCAST
Harnessing the Lucrative and Satisfying Power of Being YOU
THE MARIE FORLEO PODCAST
Feeling Behind? Laura Belgray's Advice for Late Bloomers & Aspiring Authors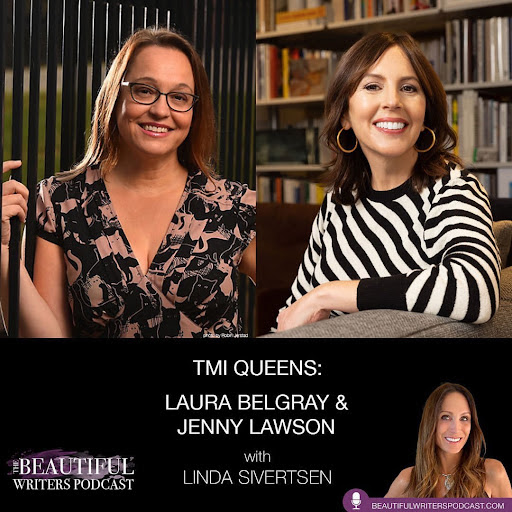 THE BEAUTIFUL WRITERS PODCAST
Jenny Lawson & Laura Belgray, TMI Queens: The Art of the Overshare
MOMS DON'T HAVE TIME TO READ BOOKS
Laura Belgray, TOUGH TITTIES: On Living Your Best Life When You're the F-Ing Worst
A CERTAIN AGE
Author Laura Belgray of "Tough Titties" on Late-Bloomers, Loser Superpowers and Why Midlife is the Time to Be Flawsome
SO BAD IT'S GOOD WITH RYAN BAILEY
Laura Belgray, on her new book, RHONY old and new, Vanderpump Rules and the new season of And Just Like That!
MISTAKES THAT MADE ME
Ghosting My Email List
ONLINE MARKETING MADE EASY WITH AMY PORTERFIELD
Do You Know What Makes You Unique? A Brand-Building Chat.
School's Over...Now What‪?‬
How To Get Anyone To Read Your Email
THE JASMINE STAR SHOW
How to Build a Powerful Connection with Your Audience with Laura Belgray
THE EMAIL MARKETING SHOW
Turn Problems into Opportunities – Convert Haters into Sales with Laura Belgray
The Get Paid Podcast
On Jealousy and Being a "Slow Poke"
The Copywriter Club Podcast
Stepping into Your Own Voice
SO MONEY WITH FARNOOSH TORABI
Laura Belgray: Copywriting Expert
DO IT SCARED WITH RUTH SOUKUP
Writing Your Own Story with Laura Belgray
DON'T KEEP YOUR DAY JOB WITH CATHY HELLER
The 3 Steps to Great Copy
THE INFLUENCER PODCAST WITH JULIE SOLOMON
Never struggle with your copy again with Laura Belgray
MIND YOUR BUSINESS WITH JAMES WEDMORE
Flawsome & Fearless with Laura Belgray
how to get a grip with matthew kimberley
Childlessness and Chinese Food
COPY CHIEF RADIO
How To Create (And When To Kill) A Hot Offer
Feminine & Fulfilled with Shazia Imam
Laura Belgray - Award-Winning Copywriter
The Amber Lilyestrom Show
Laura Belgray on Writing Non-Sucky Copy and Connecting With Clients Who Rock
EARN YOUR HAPPY WITH LORI HARDER
Create raving fans and learn how to get people excited about your message
ENTREPRENEURS ON FIRE
How entrepreneurs can find words that make their buyers go bananas with Laura Belgray
THE TRUTH ABOUT MARKETING WITH KEVIN ROGERS
The email style that out-converts every other guru in your space
THE KATE AND MIKE SHOW
How To Write Non-Sucky Copy with Laura Belgray
SUPERFAST BUSINESS WITH JAMES SCHRAMKO
How To Use Your Flaws To Attract The Best Buyers With Laura Belgray
DON'T KEEP YOUR DAY JOB WITH CATHY HELLER
How to Use Words to Make Your Audience Love You
Go-To Gal with Jaclyn Mellone
Being You in Your Copy and Beyond
THE UNMISTAKABLE CREATIVE
Laura Belgray: Finding Your Calling by Breaking All the Rules
The Art of Paid Traffic with Rick Mulready
Why Your Copywriting Needs C.P.R.
TRUTH ABOUT MARKETING WITH KEVIN ROGERS
Laura Belgray – How To Steal Attention With Strange Copy (Then Keep It With Good Writing)
DON'T KEEP YOUR DAY JOB WITH CATHY HELLER
Why You'll Never Have To Sell Anything Again
Deconstructing Success with Chris Winfield
Crushing Crappy Copy (One Word at a Time)
THE COPYWRITER CLUB
The "No-Niche" Niche with Laura Belgray
BUSINESS OF WRITING PODCAST
How to Charge What You're Worth
THE WHOLE YOU PODCAST
Can You Be Lazy & Successful With Laura Belgray
The Jasmine Star Show
How To Get Paid To Be YOU
(5 Best of 2020!) 
THE YOU-EST YOU™ PODCAST
Getting Paid to Be You with Laura Belgray, Founder of Talking Shrimp
SHE BUILT THIS™
How to Bring Life to Your Copy: A Conversation with Laura Belgray
WILD BUSINESS GROWTH PODCAST
Talking Shrimp, Creative Copywriting Genius
COACH PONY
How I Built an Online Program That Made 6 Figures Immediately with Laura Belgray
THE GOOD SPACE PODCAST
How to Embrace Your Voice and Be True to Yourself (in Life and Business) with Laura Belgray
7-FIGURE SMALL WITH BRIAN CLARK
The 7-Figure Copywriter
BEST SPEECH WITH MIKE PACCHIONE
A Great F*ing Brand with Laura Belgray
THE INSPIRATION PLACE PODCAST
Your Story Sells Your Art with Laura Belgray
THE GLOBAL PHENOMENON PODCAST
Getting paid for being yourself with Laura F**king Belgray
DO IT TODAY PODCAST
Today Laura Belgray Is Being Unapologetically Lazy
CUBICLE TO CEO
6 Figure Affiliate Payout With A 6K List: This Email Marketing Campaign Earned Laura Belgray The #1 Affiliate Spot
THE ENTREPRENEURS GROWTH CLUB PODCAST
How to write emails that sell with Laura Belgray
THE FEMININE MARKETING SHOW
Laura Belgray on Email Marketing for Coaches
WRITE THE DAMN BOOK ALREADY
Interview with Laura Belgray
UNICORNS UNITE
How to Add Your Personality to Your Copy with Laura Belgray
DUCT TAPE MARKETING PODCAST
Tough Titties: Living Life on Your Own Terms
HOLISTIC WEALTH WITH KEISHA BLAIR
Laura Belgray Made Her First Million At Age 50 And Wouldn't Have It Any Other Way, Plus Her New Book "Tough Titties"
SMALL BUSINESS, BIG MINDSET
Tough Titties: On Living Your Best Life When You're the F-ing Worst
THE #justbloodypostit PODCAST
A lazy person's guide to making millions with (vvv funny) writer Laura Belgray
BOUND & DETERMINED
Saying Tough Titties to the "Supposed To's"
THE SELFISH GIFT PODCAST
The Lazy Person's Guide to Wild Success with Laura Belgray, Founder of Talking Shrimp
BLITZ GROWTH WITH JACK PAXTON
Get Paid to Be You: Turning Your Skills into a Successful Course or Book with Laura Belgray
THE OPPOSITE OF SMALL TALK
Living your best life when you're the f-ing worst, with Laura Belgray
THE MARKETING MENTOR PODCAST
On writing & publishing "Tough Titties" with Laura Belgray
PAID VOCATION WITH LUPE PRADO
How to Be Unapologetically You and Succeed in Business with Laura Belgray
PROBLEM SOLVERS
Write Emails That People Actually Open
POWERHOUSE WOMEN
Showing Up Authentically & Resonating With Your Audience With Laura Belgray
PERMISSION TO KICK ASS
Living Your Best Life When You're the Effing Worst
THRIVE BY DESIGN
Meet Your New Favorite Summer Read – Tough Titties by Laura Belgray
THE TERRI COLE SHOW
Lazy Launches, Loser Power and More with Laura Belgray
LET IT BE EASY WITH SUSIE MOORE
Living Your Best Life (When You're The Worst!) with Laura Belgray
CLAIM IT! WITH YOUR JOYOLOGIST TRICIA HUFFMAN
Laura Belgray - Founder of Talking Shrimp, Co-Creator of The Copy Cure, and Author of Tough Titties
THE CATHY HELLER PODCAST
Laura Belgray on How to Live Your Best Life When You Feel Like a Hot Mess
THE INFLUENCER PODCAST
Tough Titties: Embracing Imperfections & Laughing Through Life with Laura Belgray
EARN YOUR HAPPY
Tough Titties! Author Laura Belgray On How To Give Yourself Permission To Live Your Best Life
SO MONEY WITH FARNOOSH TORABI
Living Your Best Life When You're the F-ing Worst with Laura Belgray, Author of Tough Titties
THE YOU-EST YOU® PODCAST
How To Not Give a F- with Laura Belgray
COPY CHIEF RADIO
Wisdom Tree: Laura Belgray on writing, and selling, Tough Titties
RELATIONSHIP ALCHEMY
Tough Titties with Laura Belgray
LADY TO LADY
"Pizza or Doctor" ft. Laura Belgray
MULTI-PASSIONATE LIKE A BOSS
Laura Belgray on Being Yourself (and Doing What You Want)
NO BS AGENCY PODCAST
Laura Belgray on Writing With Your Voice, Sharing Your Stories, and Being You in All Your Work
DIVORCED NOT DEAD
Feeling Your Worst: A Necessary Path to Your Best Life
SEEING OTHER PEOPLE
Learning to Be Unapologetically Yourself with Laura Belgray
THE PAPAYA PODCAST
The One About Being A Late Bloomer with Tough Titties Author, Laura Belgray
CRAZY MONEY WITH PAUL OLLINGER
Self Help for Mediocre People with Laura Belgray
MEANT FOR IT
Laura Belgray Is Your Copywriting BFF
YOU TURN PODCAST WITH ASHLEY STAHL
How to Navigate The Digital Marketplace and Be Yourself with Laura Belgray
MONEY REHAB WITH NICOLE LAPIN
How To Write an Email That People Actually Open and Not "Having It All" with Laura Belgray
FINANCIAL FEMINIST
A Love Letter to Late Bloomers with Laura Belgray